LIBOR Transition Summary
In 2017, the Financial Conduct Authority (FCA), which regulates LIBOR, announced it would no longer guarantee LIBOR production beyond 2021. The impending end of LIBOR has become a key issue facing financial markets as it is one of the most widely used reference rates, with nearly $200 trillion of derivatives, loans, securities, and mortgages referencing USD LIBOR (as of 2016). With such a considerable volume of contracts tied to LIBOR, a smooth transition from LIBOR to a new reference rate is crucial to the stability of financial markets.
The Federal Reserve tasked the Alternative Reference Rate Committee (ARRC), a group of market participants, with developing a rate to replace LIBOR and ensuring a successful transition. In 2017, the ARRC identified the Secured Overnight Financing Rate (SOFR) to be the recommended successor rate to USD LIBOR.
Since SOFR was identified to replace LIBOR in the United States, a paced transition plan has been underway and led by the ARRC. As LIBOR is wide-spread throughout the financial markets, it is possible that members will be affected by the transition. The FHLBank Chicago has published Frequently Asked Questions and a Transition Primer PDF to inform our members on the transition progress, market developments, and suggested action items from ARRC and ISDA.
FHLBank Chicago is continually monitoring SOFR developments from ARRC and in the markets and will continue to update our members.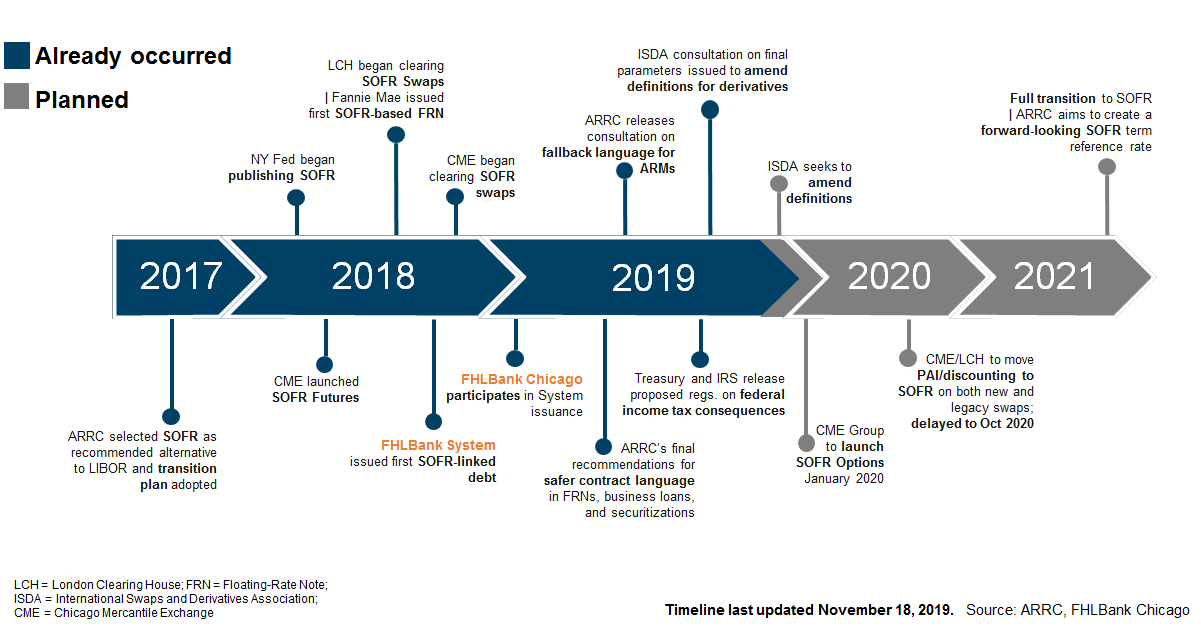 LIBOR Transition News from FHLBank Chicago
Recent LIBOR Transition News
External Resources
Frequently Asked Questions

Last updated June 6, 2019.
Contact your Sales Director for more information.

FHLBank Chicago and Member Developments
Disclaimer
The data and valuations provided on this page are for information purposes only and are provided as an accommodation and without charge. The Federal Home Loan Bank of Chicago makes no representations or warranties (express or implied) about the accuracy, currency, completeness, or suitability of any information in this presentation. This presentation is not intended to constitute legal, accounting, investment or financial advice or the rendering of legal, accounting, consulting, or other professional services of any kind. You should consult with your accountants, counsel, financial representatives, consultants and/or other advisors regarding the extent this information may be useful to you and with respect to any legal, tax, business and/or financial matters or questions. In addition, certain information included here speaks only as of the particular date or dates included in this presentation, and the information in the presentation may have become out of date. We do not undertake an obligation, and disclaim any duty, to update any of the information in this presentation.
Because the transition from LIBOR to SOFR continues to evolve, information here may become stale at any given time. Last updated June 6, 2019.