We've heard it said in many ways: our differences make us better and stronger. Here, at FHLBank Chicago, we believe, live, and promote that sentiment in all that we do.
Our employees, our members, and their communities are diverse, and we celebrate that diversity by fostering a culture where all are engaged, respected, and given equitable opportunities to succeed.
We start within our Bank, where our employees are active participants in developing the diverse, equitable, and inclusive culture we aspire to have. We actively recruit and retain diverse talent whose unique experiences and ideas are not just heard, but also valued. This approach allows us to consistently develop and deliver quality products and solutions to our members that enable them to support their communities.
We don't stop there, however. Our Office of Diversity, Equity, and Inclusion (ODEI) continues to find innovative ways to support, represent, and learn from our staff, members, and communities. Whether we are providing capital to traditionally underserved neighborhoods, hosting a panel discussion that tackles tough topics like systemic racism, or learning about our colleagues' backgrounds and traditions, we are dedicated to keeping diversity, equity, and inclusion at the forefront. Our work is about more than checking boxes; we aim to create a positive change that amplifies our District's diversity, beauty, and vibrancy.
I encourage you to read below to find out more about our work. I also invite you to click around our website to apply for an open position, apply to become a vendor to the Bank, and learn more about the benefits of being our member. We firmly believe by valuing one another, everyone can achieve their desired goals. We cannot wait to work with you.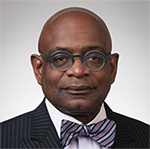 -Cedric D. Thurman
Executive Vice President, Chief Diversity Officer, Group Head, Community Investment and Diversity, Equity, and Inclusion
The Office of Diversity, Equity, and Inclusion (ODEI) Mission
FHLBank Chicago values all perspectives and is committed to be an industry leader where our diversity, equitable, and inclusive culture serves to inspire our internal and external stakeholders.
Within Our Team
ODEI encourages a workplace that has conscious inclusion, a culture that promotes feedback, and diverse representation across our organization. In addition to dozens of annual employee-driven events and training sessions, here are a few ways we encourage diversity, equity, and inclusion within the Bank:
Diversity, Equity, and Inclusion (DEI) Committee: A diverse group of employees who meet to develop strategies and garner support for our DEI initiatives
Employee Resource Groups: Employees with shared experiences and goals who volunteer to bring greater representation across the Bank
Engagement Teams: Our Book Club, Wellness Group, Financial Literacy Group, and CommuniTeam (a group that leads many of our charitable and volunteer opportunities) make up our Engagement Teams. They allow us to learn, have fun, and connect with each other.
Working Groups: Employees from all backgrounds, experiences, and job levels who collaborate to offer their perspectives and offer creative solutions
Cultural Explorations: An annual, immersive experience where our Board of Directors, Executive Team, and randomly-selected employees learn about a different culture and address barriers that may impact their access to equitable opportunities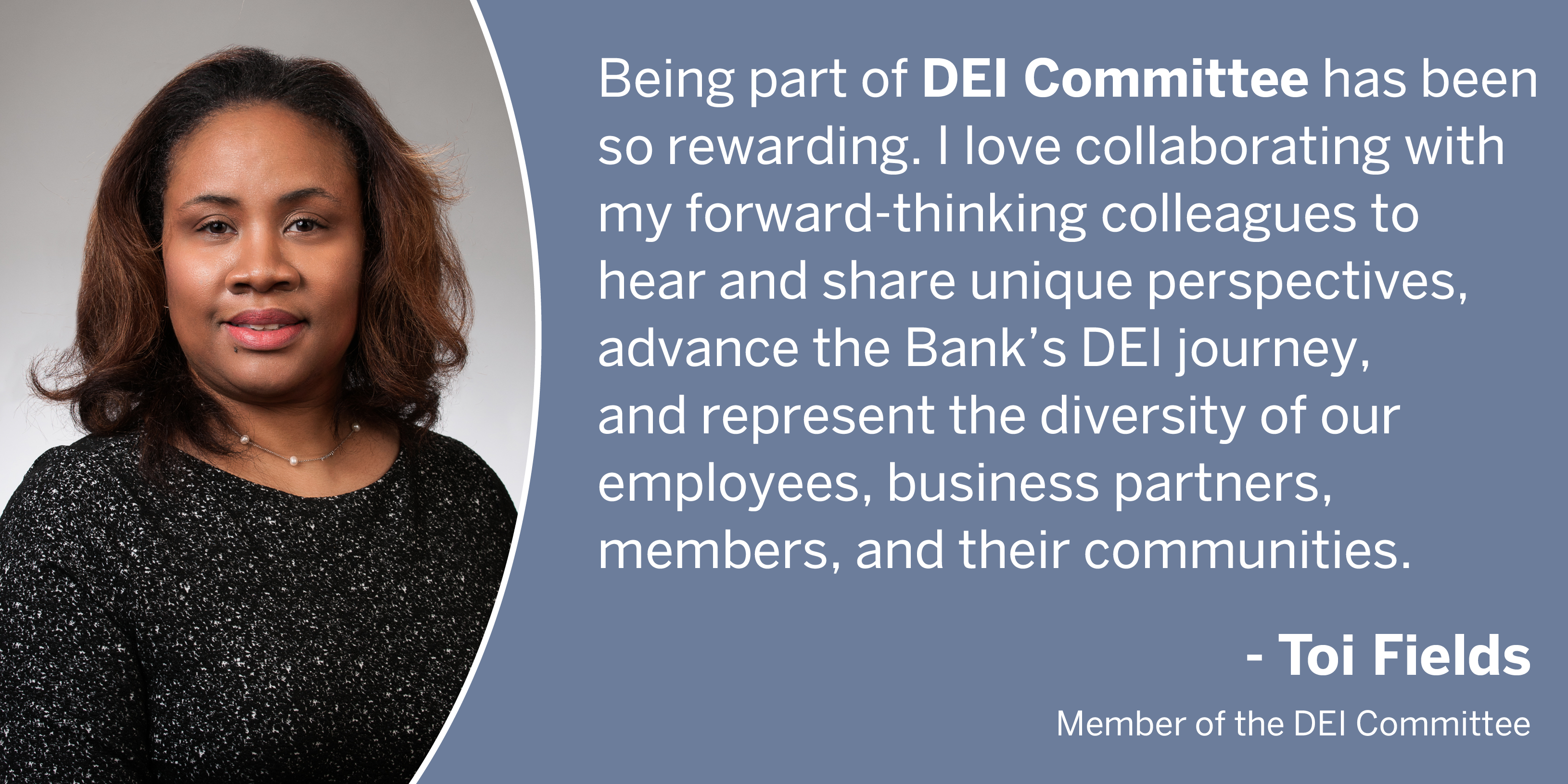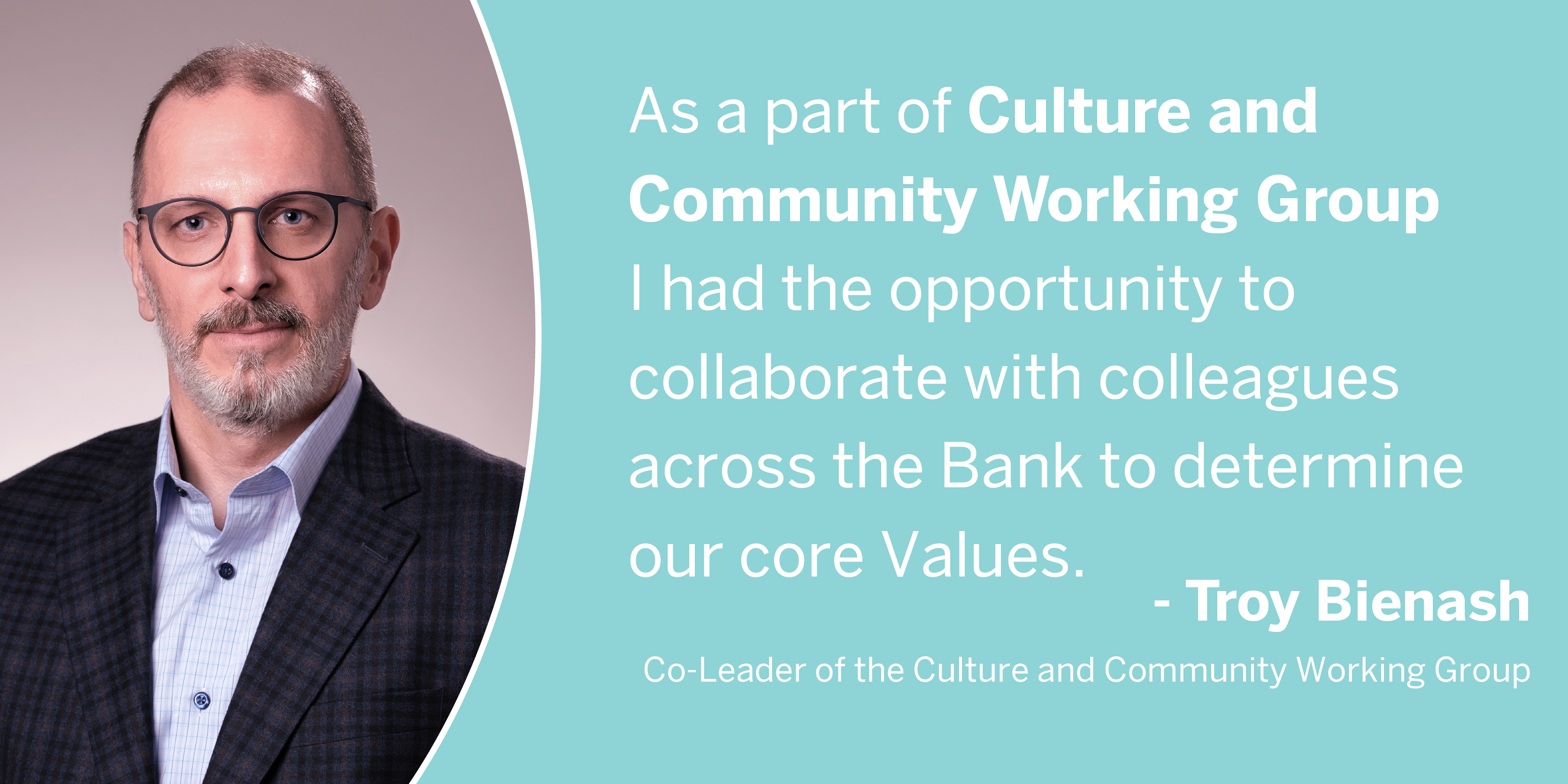 Throughout Our Communities and Across Our District
We proudly serve members across Illinois and Wisconsin. Our programs and corporate contributions enable our members and external partners to further support their diverse communities. Here are a few ways we champion diversity, equity, and inclusion outside of our Bank:
Supplier Diversity: We actively seek and work with diverse, minority-owned businesses to help us complete team projects. If you are a diverse vendor, please connect with us!
CommuniTeam: Our employee-led volunteer group that develops relationships with local charitable organizations
Affordable Housing Program: One of our Community Investment programs that encourages and supports the acquisition, new construction, and/or rehabilitation of affordable rental or owner-occupied housing
Downpayment Plus ® Programs: Programs that provide our members with easy-to-access down payment and closing cost assistance to help their income-eligible customers achieve homeownership
Check out the video below to hear from FHLBank Chicago leaders and community partners on housing and economic development challenges and opportunities in rural communities across the district. This conversation was part of FHLBank Chicago's bi-annual Cultural Exploration, a year-long engagement with our Board of Directors to better understand the needs of underserved communities.