Benefits of Advance Restructuring
May 11, 2021
Federal Home Loan Bank of Chicago (FHLBank Chicago) members with existing advances on their books have the ability to restructure this debt to better optimize their liability portfolio. Advance restructuring involves modifying the original terms of a borrowing such as extending the maturity date or changing the interest rate from fixed to floating. There are some limitations and FHLBank Chicago must be made whole to the terms of the original advance. However, restructuring may help reduce annual interest expense to soften the impact of higher rate advances executed in a different time and environment. Members are enabled to restructure through debt modification rules and guidance provided by the Financial Accounting Standards Board (FASB).
To help you improve your balance sheet, we have expanded our long-term advance discount program to restructures applicable under our single fixed rate, fixed term special. Members will receive a 5 basis point (bps) reduction only to the extended term of the advance restructured. The special is limited to restructures when the maturity date is extended by at least three years. See all our terms and conditions here.
Blending and Extending
Does your institution have existing fixed rate advances at a higher than market rate? Consider extending the maturity date of the borrowing and blending the original rate into a new advance. This type of advance restructure referred to as "blending and extending" or "B&E" is advantageous in today's low rate environment. Blend and extend restructuring may allow your institution to considerably reduce the annual interest rate on your borrowings.
For example, an FHLBank Chicago member executed a 4-year fixed rate advance in May 2018 to mature in May 2022 with an interest rate of 2.86% per year. Since 2018, the advance has rolled the curve and is now a 1-year fixed rate today. Let's look at how we can help restructure the advance to reduce the interest rate expense per year by blending the existing rate back into a 4-year advance with a new rate of 1.42% illustrated below: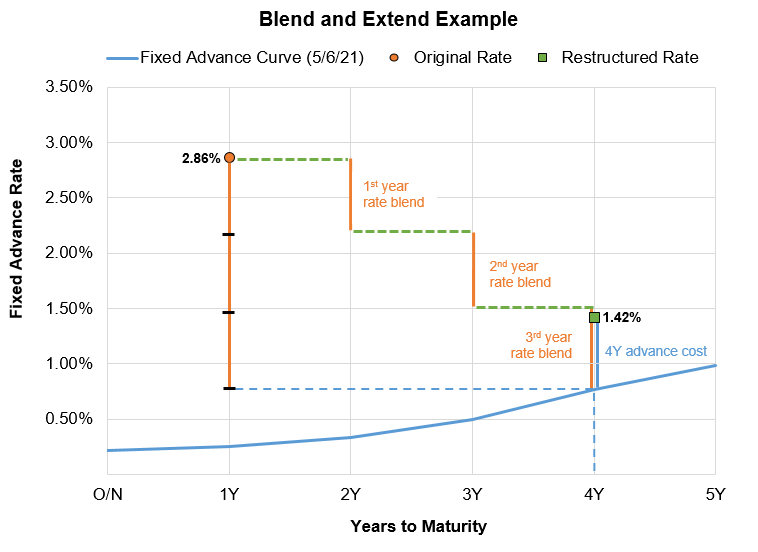 As illustrated above, the higher than market rate 1-year advance is blended into new 4-year advance. This FHLBank Chicago member's fixed rate advance rate would be reduced from 2.86% to 1.42% or by 1.44% per year! While this new 4-year advance rate is higher than market rate due to blending, the restructuring would help soften the interest expense charged in the next year.
Advance Restructuring Rules and Guidelines
FHLBank Chicago must be financially indifferent following an advance restructure. Therefore, there are some limitations. Newly restructured advances must fully incorporate the original interest amount. This is normally expressed as an annual percentage rate charged on the newly restructured advance.
Newly restructured advances must have a longer maturity date than the original advance, cannot include member owned option(s) which could shorten the maturity duration less than the original advance, and must not include embedded features or options which could reduce the interest rate below the restructured rate.
Debt Modification Rules from FASB and the 10% Test
FHLBank Chicago members are enables to modify their advances according to rules from FASB under section ASC 470-50-40. The rules established a formula to determine if non-troubled debt can be classified as a debt modification. This is often referred as the 10% test within the industry. We will help you and your teams navigate this and other regulations, but always consult with your accountants and perform due diligence.
How to Transact

Please reach out for quotes and ideas on how to restructure your advances. We're happy to help you!
Other Pricing Special Discount Reminders
The Early Bird catches the worm! We summarized other pricing specials on select short-term advances transacted by 10 a.m. each day and special discounts on select longer-term advances. You can review the details in our Notes from the Funding Desk from March 4, 2021.
Please reach out to your Sales Director with any questions.
Contact your Sales Director for more information.