Notes from the Funding Desk: Fixed Rate Fixed Term Ladder Discount Special
As rates remain low and more customers ask for longer-term fixed rate loans, the Federal Home Loan Bank of Chicago (FHLBank Chicago) has created a discounted laddered advance special of a 5 basis point (bps) reduction in rate on fixed-rate fixed-term A121 Advances for a limited period of time. Executing this ladder strategy lowers the funding costs and interest rate risk of keeping longer term loans on balance sheet, whether they are residential mortgages, commercial real estate, multifamily, or agriculture loans. Coupled with the B1 Activity Stock dividend of 5%, members can lock in very low and attractive funding through this special.

What is Laddered Funding, and Why Use this Strategy?
Ladder funding involves executing a mix of fixed rate advances of different maturities, combined with other sources of funding to reduce the cost. The ladder can fund assets with amortizing cash flows to hedge interest rate risk. The maturity schedule is designed to match the projected principal pay downs to provide funding as needed. See the example below of the funding ladder matched to the projected asset cash flows for an Agency Mortgage-Backed Security (AMBS).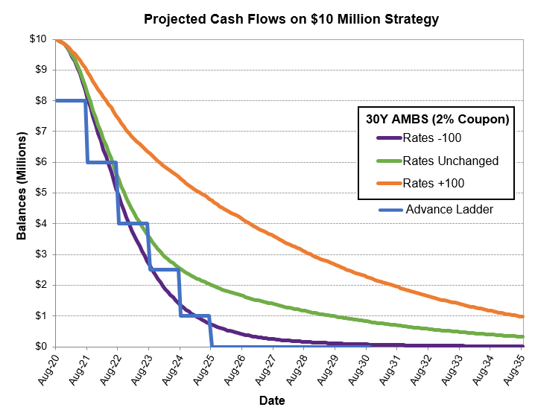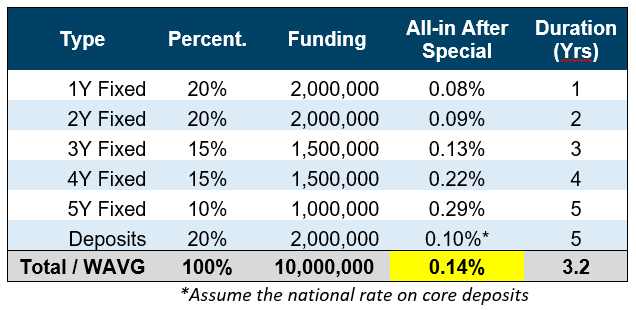 Is Your Liquidity High Now? Consider a Forward Starting Ladder or Symmetrical Prepay Option
Many institutions have seen a large inflow of deposits since the COVID-19 crisis began. However, high levels of uncertainty remain about how long the liquidity will last and how quickly deposit levels will revert to pre-pandemic levels. Your institution could consider a forward starting advance ladder with the below special if you have a large liquidity position, are concerned about deposit outflow, the possibility of rates rising, or would enjoy locking in historically low long term funding costs. Members can secure the discounted rates for future funding while not adding to the current elevated liquidity on balance sheets today. We are offering a discount to forward starting advances up to or less than one year.
See the forward starting ladder example below which relies on deposits to cover the funding for the first year.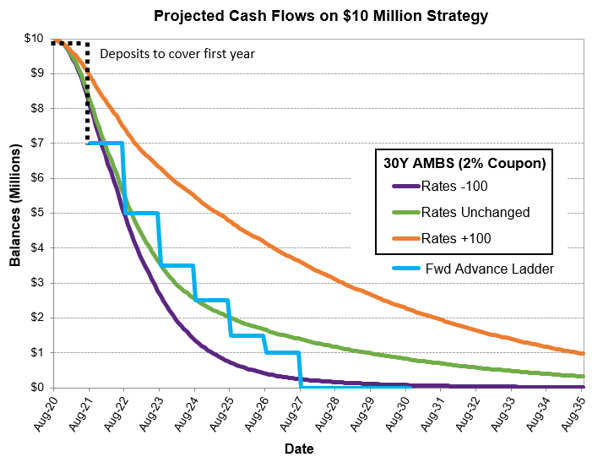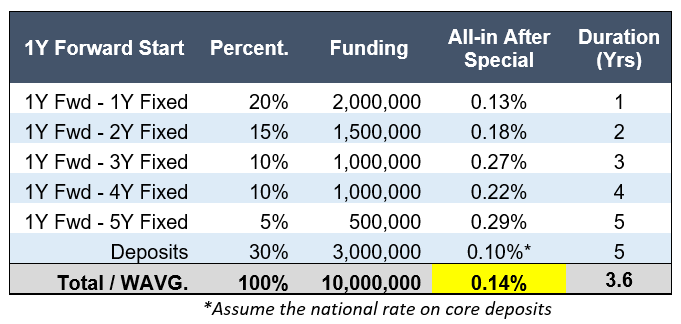 The symmetrical prepayment feature is also available to add onto the fixed rate advance ladder special with minimal additional cost (currently only two basis points). This feature allows members to prepay an advance, and potentially realize a gain, if the prepayment calculation indicates a discount which typically occurs when interest rates rise above the original advance rate. By using this flexible source of funding, members can protect the value of their long-term assets in a rising-rate environment and potentially monetize gains from market rate increases.
What Advances Qualify for the Special Discount?
To qualify for the special rate, members will have to execute three or more fixed rate fixed term A121 advances at the same time, with a minimum maturity of one-year on the shortest advance and a maximum maturity of 15-years on the longest advance. The maturity of each advance must be at least 6-months apart and each advance must at least be $500,000.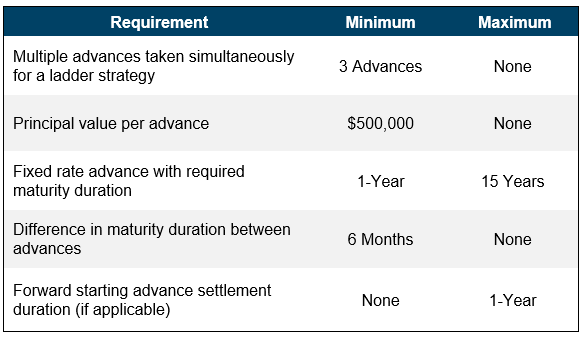 Please note that to receive the discount you will need to call in to the Member Transaction Desk as ladders done through our online portal eBanking will not qualify for the discount.
Advances will not be eligible for Reduced Capitalization Advance Program (RCAP).
This special will run through September 30, 2020.
If you are interested in executing and Advance ladder, please contact the Member Transaction Desk at 855-345-2244, option 1, or your Sales Director today.
Contact your Sales Director for more information.