Introducing the Callable Floating Rate Advance (A380)
April 6, 2022
As we continue to evolve our products to enhance their value to your business and transition into a post-LIBOR world, we are pleased to announce the Callable Floating Rate Advance (A380) for our members. The A380 is linked to the Secured Overnight Funding Rate (SOFR) and allows members to customize the call features for match funding assets to assist with managing fluctuations in liquidity needs. In addition, this new product offers refinancing on call dates providing a mechanism to reduce funding spreads and manage regulatory requirements such as the liquidity coverage ratio, net stable funding ratio, and weighted short-term funding ratio. Members can execute this advance in a long-term structure while benefiting from FHLBank Chicago's low cost funding. SOFR callable advances can be leveraged to fund prepayable SOFR assets to reduce basis risk, and lock in spread income, and manage asset prepayments. Members may also structure the call features as European (one-time call) or Bermudan (many periodic calls after a lockout).
Advance Details
Maturities
▪ 3 months - 10 years
Call Dates
▪ First call dates is the date specified on the related application or confirmation.
▪ If European, non-callable after the first call date/expiry date.
▪ If Bermudan, periodic at call date frequency.
Rate Index
▪ Set at fixed spread to the SOFR.
▪ Rate is reset daily on calendar days.
Principal and Interest
▪ Principal is due at maturity.
▪ Interest is due monthly, two New York business days at the end of the relevant period.
▪ Final interest payment is due two New York business days after maturity.
▪ Quarterly or semi-monthly payment is available upon request and as specified in the related application and confirmation.
Call Options
▪ European and Bermudan
Day Count Fraction
▪ Actual/360 calculated as a daily weighted average, with the last day of the accrual period adjusted to the following New York business day if it falls on a day that is not a New York business day.
▪ If requested and specified in the application or confirmation, the last day of the accrual period can be the actual last day of the accrual period even if it falls on a day that is not a New York Business day.
▪ Compounding may be available upon request and as specified in the related application of confirmation.
Prepayment Policy

▪ Prepayable at par plus accrued interest on each termination (call) date, subject to five New York business days written notice.
▪ If prepaid on any other date, the advance is prepayable at par plus accrued interest plus prepayment fee.

Reset Dates
▪ Reset dates are daily on calendar days for any date that is not a U.S Government securities business day, the interest date will be the same as the previous business day.
▪ Determination dates are the same as the reset dates.
Example Advance
This advance is ideal for members with prepayable SOFR floating assets who want to avoid basis risk of funding with another floating rate index. Consider a 3-year, no-call 1-year advance where members would pay the daily resetting SOFR plus a spread which has recently been priced around at 33 basis points (bps). A 3-year term, non-prepayable, SOFR floating rate advance is currently priced at SOFR plus 26 bps. For only a slightly higher rate of SOFR plus 33 bps, the 3-year no-call 1-year callable SOFR floating rate advance will provide the member the option to call with no prepayment fee at the one-year mark, giving the member more flexibility with their funding.
The illustration below assumes this advance was executed in February 8, 2022: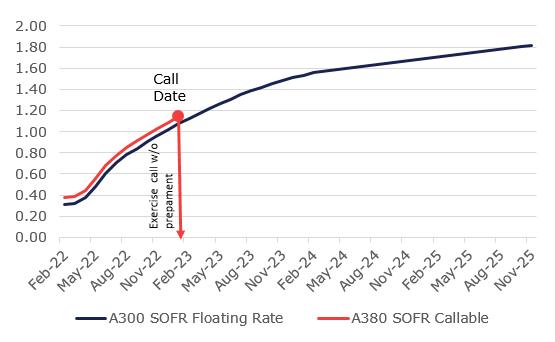 (Rate based off of forward curve as of February 8, 2022)
Risks and Rewards
The A380 can play an important part in your diversified portfolio, as duration risk is minimized due to the floating rate on the advance. The A380 helps members achieve funding at costs near the SOFR with a spread, allowing members to capitalize on lower rates ahead of the Federal Reserve rate hikes slated for 2022. The callable feature of the A380 allows members to pay a slightly higher rate to access the flexibility to call and terminate without a prepayment fee on call date(s). This allows the flexibility and assurance that you can adjust your funding needs appropriately as assets prepay or rates increase.
How to Transact
To execute this advance, you must call the Member Transaction Desk at 855.345.2244, option 1.
Watch Our Two-Part A380 Video Series
Questions?
Please reach out to your Sales Director with any questions.
Contact your Sales Director for more information.