Notes from the Funding Desk: Size Minimum Removed from the 1-Month A121 Early Bird Special
On October 7, we announced that we have removed the size minimum from the 1-month A121 (between 28 and 33 days) early bird special. The 3-month A121 advance (between 87 and 94 days) early bird special size minimum will remain at $15mm.


Falling rates have continued to spur demand for loans among our members. According to the Federal Reserve's H.8. report, loans on bank balance sheets have grown in eight of the last ten weeks. While all major loan categories have seen growth, the main driver of the most recent increase has been commercial real estate and commercial and industrial loans.
While declining medium- and long-term rates are helping to generate loan growth at your institutions, the inversion of the Treasury curve has kept short-term rates elevated. To help reduce the pressure of higher short-term funding costs, the FHLBank Chicago has rolled out several short-term "early bird" specials for members who execute certain short-term advances prior to 10:00 a.m.
This may help reduce funding costs for many members who are keeping their funding short in anticipation of further Fed rate cuts, as the special may help push the 1-month advance rate below brokered CD rates and further below 1-month LIBOR. Members who are currently (or planning on) utilizing the swap + rolling advance strategy against 1mL swaps may now be able to benefit from long-term negative swap spreads as well as a more negative spread between the 1-month Advance rate and 1mL.
See below a summary of our current short-term A121 Advance rate discounts: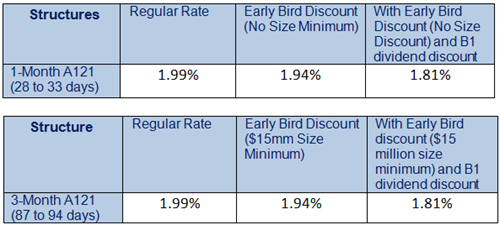 Rate snapshot 10/7/2019. Rates subject to change.
When including both the early bird discount for the 1-month and 3-month advances as well as the "all-in" rate discount from FHLBank Chicago activity stock dividend, you can see in the table and graph below that short-term advance rates are lower than comparable brokered CD rates across all sectors of the curve, including the short-term 1-month and 3-month sectors.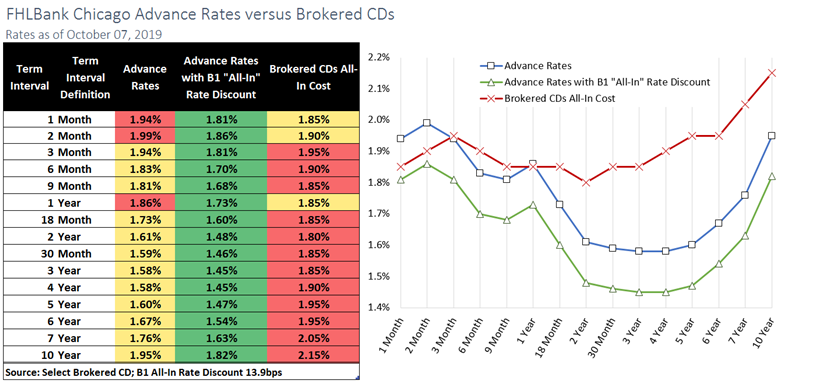 *Advance rates reflects Class B1 stock dividend as a reduction to the regular advance rate, based on 5.00% dividend rate paid in Q3 2019, an opportunity cost of buying stock and 4.5% advance capitalization for illustration purposes only.
Please reach out to your FHLBank Chicago team with any questions! For additional information regarding the FHLBank Chicago other terms and conditions, please refer to the Member Products Guide or contact your sales director at membership@fhlbc.com.
Contact your Sales Director for more information.