Notes from the Funding Desk: Swap + Rolling Advance Strategy
Interest rate volatility in today's environment has opened up a unique opportunity for Federal Home Loan Bank of Chicago (FHLBank Chicago) members. The Swap + Rolling Advance strategy allows our members to start borrowing at a negative interest rate. Members will be paid to borrow for the first three months utilizing this strategy.

There are two major market changes which drive the benefits of this strategy:
The spread between swap rates and 3-month LIBOR (3ML) has widened significantly.
The spread between FHLBank Chicago's 3-month advance and 3ML has also widened substantially.

The strategy involves four steps:
Execute a pay fixed swap and receive 3-month LIBOR from a swaps dealer.
Borrow a 3-month fixed advance.
Document the swap as a cash flow hedge* linked to the advance.
Roll the 3-month advance at maturity for the duration of the interest rate swap.
*Members should seek advice from their accountants, auditors, and consultants.
The illustration below shows the details of this strategy for a 1-year duration. The swap + rolling advance would have an interest rate of -0.40% locked for the first three months, or -0.61% when accounting for FHLBank Chicago's 5% activity stock dividend benefit as a discount to the 3-month advance.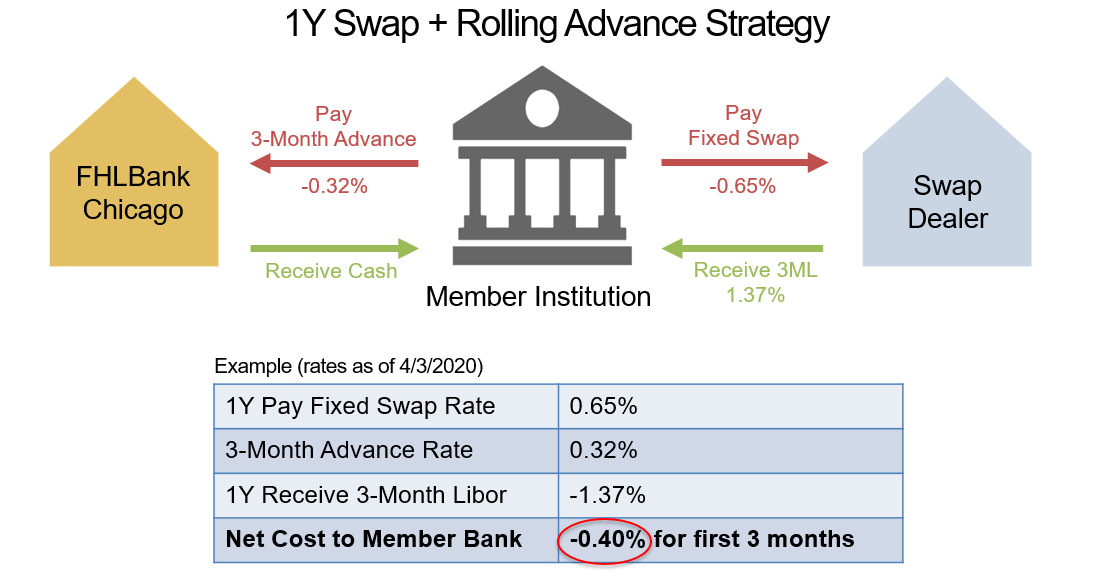 There are risks associated with this strategy. The 3-month advance and 3ML will reset, and rates may move higher or lower dependent upon market conditions. This may have an impact on the overall funding costs.
Please
reach out to your Sales Director
to learn more about this strategy.
Contact your Sales Director for more information.