Notes From the Mortgage Desk: Nothing Says Tradition Like Government
October 1, 2021
Notes From the Mortgage Desk: Nothing Says Tradition Like Government
Nothing says tradition like the government…Our Mortgage Partnership Finance® (MPF®) Government Traditional loans that is! Our MPF Traditional Government program, which has existed since 1997, continues to be competitively priced for our members. Additionally, we offer pay-ups on this product compared to other correspondents:
Federal Home Loan Bank of Chicago (FHLBank Chicago) offers MPF Traditional Government loan pay-ups on all new loans that are less than $200,000.
Traditional 30-year and 20-year loans have price incentives for coupons less than 3.25%.
MPF Traditional Government loans offer actual/actual remittance plus servicing released options. If you retain servicing, you can receive a 44 basis point (bps) return for servicing income.
If you are not an active government loan servicer, you may be able to leverage a sub-servicer to service these loans on your behalf and receive the 44 bps for servicing.
This government loan pricing is attractive today, so offer your customers a "close by Veterans Day" offer of fantastic VA loan rates!
Other Trends and Market Activity
If you are selling conventional conforming loans through the MPF Traditional programs, such as MPF Original, don't forget the benefits of the MPF Traditional program in addition to the gain on sale price: credit enhancement (CE) fee income, lack of loan level price adjustments (LLPAs), and B1 activity stock with 5% current dividend rates. Below is an example of the all-in benefit of MPF Original versus other correspondents that charge an LLPA: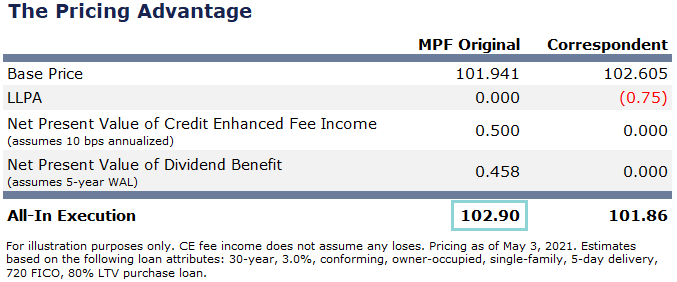 COVID-19 Servicing Update for FHLBank Chicago MPF Traditional (Conventional) Loans
For mortgage loans actively performing on a COVID-19 related forbearance plan as of March 25, 2021 that are nearing the a cumulative forbearance plan term of 18 months, where the Borrower's hardship has not been resolved and Qualified Right Party Contact (QRPC) has been achieved, the servicer may request approval for extensions of the forbearance plan term in increments of up to three months, not to exceed accumulative total forbearance period of 21 months (calculated from the initial granting of the forbearance plan), if permitted by law. Servicers must submit to through eMAQCS+:
Copy of the proposed forbearance plan
Borrower Hardship Certification (Form SG402)
Workout Worksheet (Form SG354)
MPF Default Management will notify servicers once the forbearance exception has been approved.
Loans Other Than MPF Traditional (Conventional)
MPF Government loans and MPF Government MBS loans must follow relief policies and guidance issued by the applicable Government Agencies. MPF Xtra® loans must follow relief policies and guidance issued by Fannie Mae.
Questions?
If you're interested in learning more or have any questions, please don't hesitate to contact
your Sales Director
.
Contact your Sales Director for more information.