Notes From the Mortgage Desk: Summer Pricing Specials
May 24, 2022
Mortgage Market Recap
Since our last Notes From the Mortgage Desk in February, the mortgage markets have seen a substantial increase in market volatility. As home prices and existing home sales continue to climb higher, the inflationary pressures and Fed actions have increased mortgage rates dramatically in a short time frame, while stifling home affordability for many buyers.
Summer Season MPF® Price Specials - MPF Traditional Product
To help alleviate some of the overall market pressures, FHLBank Chicago is offering a summer pricing special to maximize profitability while potentially offering lower mortgage rates to improve customers overall affordability through our Mortgage Partnership Finance® (MPF) Traditional product. For the special, we are increasing the price offered at prevailing mortgage rates (please see indicative hypothetical pricing example below):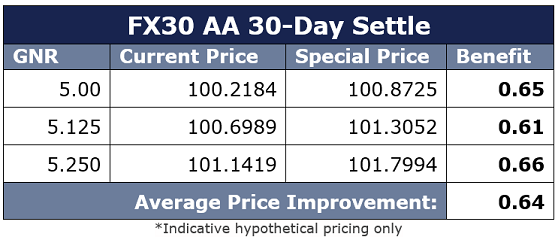 The summer special could lead to a "bump" or inversion in price in certain note rates, and the conforming price on those note rates may be higher than low loan balance price.

Pricing Special Details:
Special begins May 23 and will continue through August
Applicable to loans within conforming loan limits, excluding low loan balance

Eligible: Loan sizes between $250K and $647K

Special Note Rates: May change daily but are intended to be slightly below current market rate
All Participating Financial Institutions (PFIs) are eligible, subject to existing volume caps
In addition to the summer price special that started May 24, we will increase price for all note rates - applicable/eligible to ALL loans within conforming loan limits (including low loan balance and high balance loans) effective immediately. As you will see, pricing has generally improved by 40 basis points (bps).
Take advantage by simply logging into eMPF® and executing a delivery commitment!

Maximize Your Competitive Advantage With Our Downpayment Plus® Program
PFIs can further boost the benefits offered to their customers by leveraging our Downpayment Plus Program (DPP®). The program offers FHLBank Chicago members forgivable grants for down payment and closing cost assistance, up to $6,000 on behalf of their income-eligible customers.
For more information about DPP, reach out to the DPP team at
dpp@fhlbc.com
or contact your Sales Director for more information.
Contact your Sales Director for more information.