The Daily Advisor: September 22, 2023
Three Things To Know Today
1. Accelerate Grants for Small Business | Deadline Extended!
Applications for our Community First® Accelerate Grants for Small Business will now be accepted until October 20, 2023. Accelerate Grants are awarded to members to support their small business customers. They provide up to $25,000 per small business to fund the purchase or improvement of property, equipment, workforce development, and technology.

2. Submit Your 2023 Community Support Statements
FHLBank Chicago members must submit a Community Support Statement (CSS) to the Federal Housing Finance Agency (FHFA) to document their federal Community Reinvestment ACT (CRA) performance and record of lending to first-time homebuyers by October 31, 2023. Failure to submit will result in losing access to our Community Investment products and long-term credit.

3. Register for Our Next Institutional Insights Webinar Today!
Join our FHLBank Chicago Solutions team for our Institutional Insights Webinar on Thursday, September 28, 2023. During this session, we will walk you through the recent economic and market updates and provide an in-depth analysis of how the current market conditions impact our member institutions.

Market Commentary for Thursday
Commentary for Thursday: Equities and treasuries both sold-off yesterday as longer-term Treasury bonds experienced significant declines. The 2-year note was a relative outperformer, even though its yield reached a new high for the year. The losses in Treasuries primarily occurred at the beginning of the trading day following a consistent overnight drop in the futures market. This overnight decline coincided with a broader trend of selling in sovereign debt worldwide, driven by increased central bank activity in response to the Federal Reserve's hawkish stance. During the day, the 5-year note and shorter-term maturities hit their lows initially but recovered somewhat as the day progressed. In contrast, the 10-year and 30-year bonds faced more pressure in the morning and remained near their lowest levels until the market closed.

The latest data shows a significant drop in Americans filing for unemployment benefits, with a decrease of 20,000 to 201,000 for the week ending September 16. This marks the lowest figure since late January and is well below the market's expected 225,000. Additionally, continuing claims fell by 21,000 to a near eight-month low of 1,662,000 in the previous week, indicating that those who are unemployed are finding it easier to secure new employment. These numbers underscore the fact that the labor market is currently operating at historically tight levels. This resilience in the job market suggests that it can withstand the Federal Reserve's aggressive tightening measures, possibly allowing for an interest rate hike in November. The four-week moving average for initial claims, which smooths out weekly fluctuations, decreased by 7,750 to 217,000.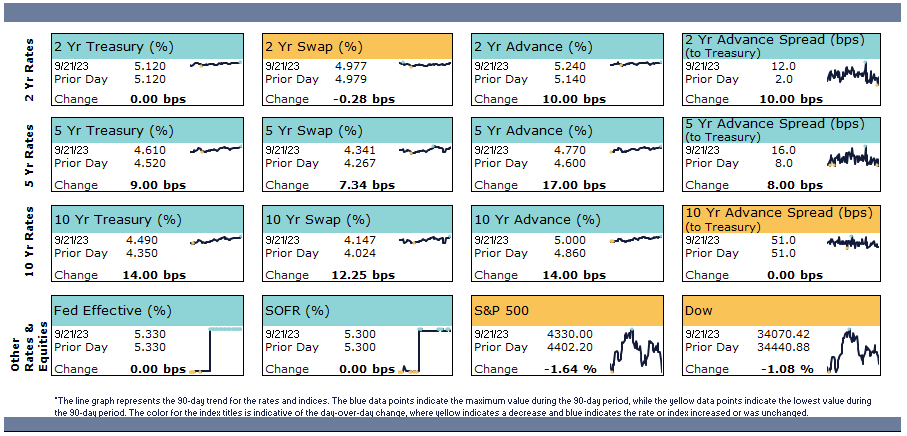 Disclaimer
The data and valuations provided in this document are for information purposes only and are provided as an accommodation and without charge. The Federal Home Loan Bank of Chicago makes no representations or warranties about the accuracy or suitability of any information in this document. This document is not intended to constitute legal, investment, or financial advice or the rendering of legal, consulting, or other professional services of any kind.
Contact your Sales Director for more information.