The Daily Advisor: May 27, 2022
Three Things to Know Today
1. Available Until Noon: 2022 COVID-19 Recovery Advance
Last chance to apply! The significantly-below-market rate advance paired with a lower "all-in" cost remains among the lowest rates for 1-year wholesale funding. We are accepting applications until today at noon.

2. Holiday Hours | Memorial Day Weekend
In observance of Memorial Day, FHLBank Chicago and the MPF Program have amended hours for Friday, May 27, 2022 and Monday, May 30, 2022.

3. Notes From the Mortgage Desk: Summer Pricing Specials
To improve your secondary market profitability and be more competitive in the marketplace, we are offering a summer pricing special through our Mortgage Partnership Finance® (MPF®) Traditional product.
Market Commentary for Thursday:
Commentary for Thursday: Treasuries ended the session mixed, while equities were lifted by positive earning releases from retailers and reassurance from the Federal Open Market Committee's meeting minutes that tightening will not outpace market expectations. Yields pushed higher in overnight trading, but fell lower by early morning. Longer dated yields climbed steeply, while shorter dated yields fell and moved mostly horizontally ahead of U.S. market open. Yields declined following the GDP release showing that the economy contracted in the first quarter, with longer dated tenors quickly reversing course. Yields were choppy during the remainder of the session ending the day with a strong 2- and 5-year auction, while yields on the longer end of the curve increased modestly.

First Quarter GDP fell at an annualized rate of -1.5%, falling more than consensus estimates of a -1.3% contraction. The decrease in real GDP is reflected by reductions in private inventory investment, exports, federal and state and local government spending while imports, a subtractor to GDP, increased. The Bureau of Labor Statistics noted that the impact of expiring or tapering Covid-19 assistance to individuals, businesses and government could not be teased out of the first quarter figures, making it difficult to quantify the actual impact of these programs. Decreases in private inventory was lead by declines in wholesale trade, primarily in motor vehicle dealers. Those declines were partially offset by increases in other business services primarily in financial services. Declines in government spending were driven by reductions in defense spending on intermediate goods and services. Increases in imports for the first quarter was driven primarily by non-food and non-automotive durable goods.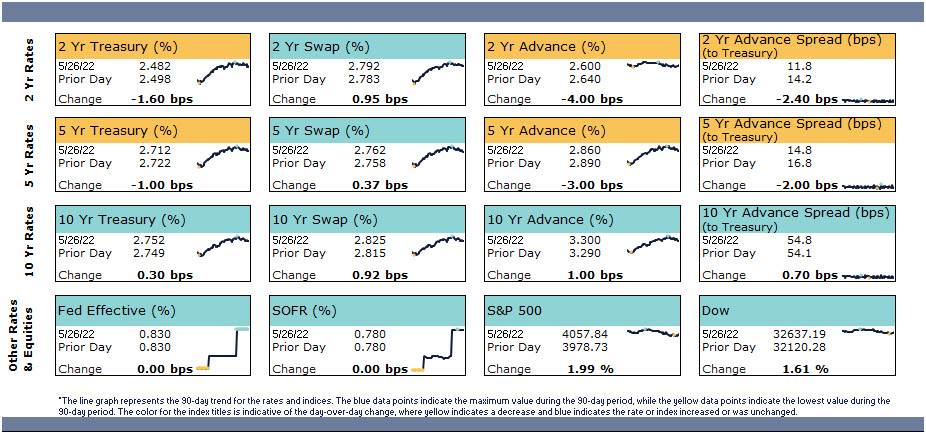 The morning market update is provided by: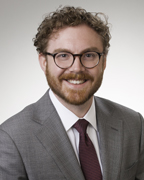 James Hotchkiss, Director, Member Strategy and Solutions



Disclaimer
The data and valuations provided in this document are for information purposes only and are provided as an accommodation and without charge. The Federal Home Loan Bank of Chicago makes no representations or warranties about the accuracy or suitability of any information in this document. This document is not intended to constitute legal, investment, or financial advice or the rendering of legal, consulting, or other professional services of any kind.
Contact your Sales Director for more information.