The Daily Advisor: September 30, 2022
Three Things to Know Today

1. Extended and Expanded MPF® Traditional Pricing Special – For a Limited Time!
Take advantage of improved pricing across all Mortgage Partnership Finance® (MPF) Traditional products, including additional price benefits for specific note rates on 30-year conforming mortgages.
2. Downpayment Plus® Program Benefits
Learn how our Downpayment Plus (DPP®) Programs can help attract new customers to your mortgage business and assist your income-eligible customers with down payments and closing costs.
3. Last Day for Applications - Accelerate Grants for Small Business
Today is the last day to submit applications for our Community First® Accelerate Grants for Small Business, a new program to help small businesses grow and develop.
Market Commentary for Thursday:
Commentary for Thursday: Treasuries sold off and equities ended the day lower as the S&P 500 reached its lowest point since November 2020. Loretta Mester, Federal Reserve Bank of Cleveland President, said she does not see any distress in the financial markets that would alter the central bank's initiatives to lower inflation through rate hikes. A better than expected report on layoffs further bolstered expectations of continued rate increases.

Initial jobless claims fell significantly, down to 193K in the week ending September 24 - the first sub-200K reading since early May. On a non-seasonally adjusted basis, initial claims fell nearly 13K with notable decreases in Michigan and New Jersey. Continuing claims fell 29K to 1347K for the week of September 17, below the consensus expectations of 1388K.

The final estimate of the second quarter GDP is unrevised at -0.6% after a 1.6% decline in the first quarter; signaling the economy is technically in a recession. Personal consumption expenditures are up 2%, skewed by the increase in spending on services - up 4.6%. Consumers did not purchase as many hard goods in the second quarter, in part due to depleted inventories.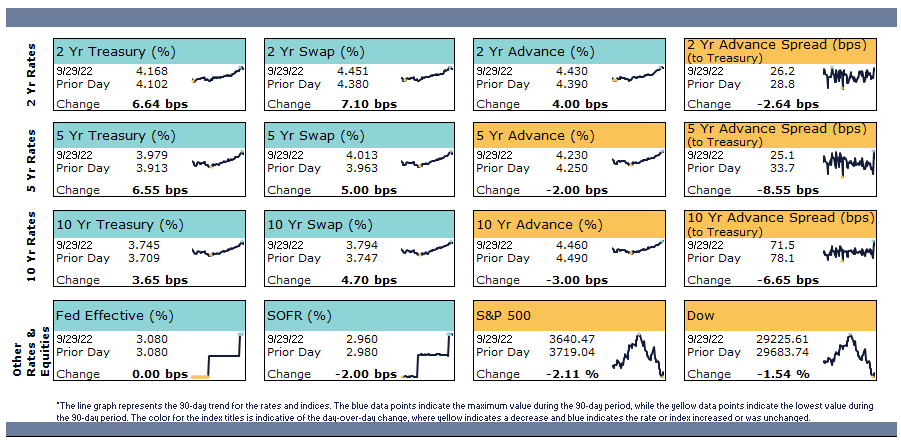 The morning market update is provided by: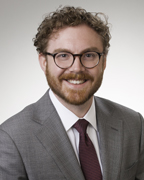 James Hotchkiss, Director, Member Strategy and Solutions


Disclaimer
The data and valuations provided in this document are for information purposes only and are provided as an accommodation and without charge. The Federal Home Loan Bank of Chicago makes no representations or warranties about the accuracy or suitability of any information in this document. This document is not intended to constitute legal, investment, or financial advice or the rendering of legal, consulting, or other professional services of any kind.
Contact your Sales Director for more information.