FHLBank Chicago Pricing Specials
See the table below for a quick breakdown of our current Advance pricing specials: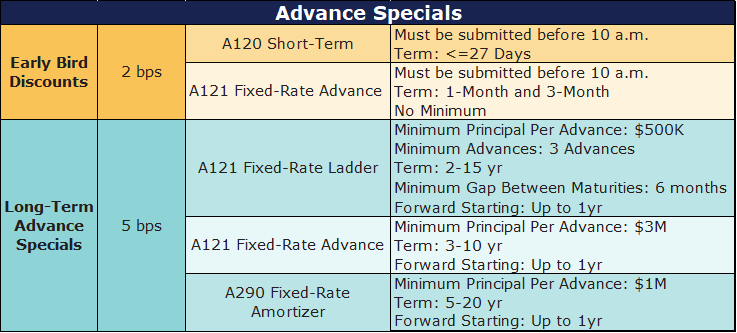 To execute, please contact our Member Transactions Desk (MTD) at 855.345.2244, option 1. For more information, the details of each special are below.
Early Bird Discounts
We are offering an early bird discount of 2 basis points (bps) pricing discount from our regular advance rate for certain advances executed before 10 a.m.:
Short Term Advances (A120)
Fixed Rate, Fixed Term Advances with 1- and 3-month maturities (A121)
Now you can earn additional pricing discounts when your A120 advance borrowing amounts are higher than $250 million. This additional pricing discount results in a negative cost of funds, factoring in the dividend and discount on advance rate!

Some of these advances can be executed on eBanking. Pricing specials on advances greater than $250M must be called in. These rates and pricing discounts can change daily - please contact MTD for the most current rate at 855.345.2244, option 1.

Long-Term Advance Special Discounts
We have extended our 5 bps long-term advance special discounts through Sepetmber 30, 2021. The minimum gap between maturities has been moved down from one year to six months.
All advances must be fully capitalized and are not eligible for the Reduced Capitalization Advance Program (RCAP).
Members may execute multiple specials in a day but individual terms apply and discounts cannot be combined.
Daily maximum of $50 million principal value inclusive of all three specials.
Eligible through June 30, 2021.

Terms and conditions are subject to change and are updated here. These advance specials are not eligible for RCAP. Current advance rates pre-discount can be found on the daily rate sheet. To execute, you must call MTD at 855.345.2244, option 1. Advances executed on eBanking are not eligible for the pricing discount.

Contact your Sales Director for more information.

Disclaimer
The Federal Home Loan Bank of Chicago (FHLBank Chicago) makes no representations or warranties (express or implied) about the accuracy, currency, completeness, or suitability of any information provided on this page. The data and valuations provided on this page are for information purposes only and are provided as an accommodation and without charge. The information provided on this page is not intended to constitute legal, accounting, investment or financial advice or solicitation, or the rendering of legal, accounting, consulting, or other professional services of any kind. You should consult with your accountants, counsel, financial representatives, consultants and/or other advisors regarding the extent this information may be useful to you and with respect to any legal, tax, business and/or financial matters or questions. The information provided on this page may contain forward-looking statements which are based upon the FHLBank Chicago's current expectations and speak only as of the date(s) thereof. These forward-looking statements involve risks and uncertainties including, but not limited to, the risk factors set forth in the FHLBank Chicago's periodic filings with the Securities and Exchange Commission, which are available on its website at www.fhlbc.com. This page may provide relevant links to other outside web sites unrelated to FHLBank Chicago. FHLBank Chicago is not responsible for such linked sites nor the content of any of the linked sites. You understand that when going to a third-party web site, that site is governed by the third party's privacy policy and terms of use, and the third party is solely responsible for the content and offerings presented on its website.
In addition, certain information provided on this page speaks only as of the particular date or dates included, and the information may have become out of date. FHLBank Chicago does not undertake an obligation, and disclaims any duty, to update any of the information included on this page. Because the situation relating to the LIBOR transition continues to evolve, information here may become stale at any given time. Last updated March 31, 2020.