Federal Home Loan Bank of Chicago Announces Community First Award Winner in O'Fallon, Illinois
For Immediate Release

Contact: Jaclyn Toll, 312-565-5840, jtoll@fhlbc.com

The Federal Home Loan Bank of Chicago (FHLBank Chicago) announced the first recipient of its 2019 Community First® Awards yesterday at its member meeting in O'Fallon, Illinois. The awards recognize outstanding achievements of the FHLBank Chicago's member institutions and their local partners as they work together to strengthen their communities through affordable housing and economic development initiatives. Award winners select a nonprofit organization to receive up to $10,000. At its O'Fallon, Illinois meeting, the FHLBank Chicago presented an award in the category of project or program.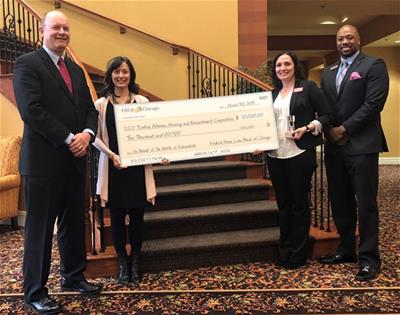 Project or Program Award
The MyCOMMUNITY Home Loan and Home Improvement Loan Programs, developed by TheBANK of Edwardsville, is the recipient of the project or program award. Realizing there are many barriers for low- to moderate-income borrowers to qualify for a mortgage or home improvement loan, TheBANK of Edwardsville took action to reach people in these underserved communities.
After much research, they introduced the MyCOMMUNITY Home Loan Program, which offers the use of an Individual Tax Identification Number, flexible underwriting criteria, and dedicated loan officers to help those who may not qualify for traditional banking products but hope to own a home. Shortly after the launch of the mortgage loan program, the MyCOMMUNITY Home Improvement Loan was created to provide home improvement financing to the same underserved population looking to repair and improve their homes. Additionally, TheBANK of Edwardsville is able to help many participants in the MyCOMMUNITY Home Loan Program through the Downpayment Plus® (DPP®) Program, which offers FHLBank Chicago members down payment and closing cost assistance to help their income-eligible customers achieve homeownership.
"We are truly honored and humbled to be recognized by the FHLBank Chicago with its Community First Award," said Sandy Smith, Assistant Vice President of Business Development and CRA. "We're proud of the impact the MyCOMMUNITY Home Loan Program has had in our local communities and proud of how many people we've been able to help realize their dream of homeownership through this program."
"Through these innovative programs, TheBANK of Edwardsville is able to help with home purchases by people who take pride in homeownership, as well as with existing homeowners looking to make improvements. Not only are they making their communities better places to live, they are educating members of the community that owning a home is an attainable goal. It was a pleasure to recognize TheBANK of Edwardsville with a 2019 Community First Award," said Suzi Thackston, Community Investment Officer, Federal Home Loan Bank of Chicago.
Three additional Community First Award recipients are being announced at FHLBank Chicago member meetings in Green Bay and Madison, Wisconsin.

About the Federal Home Loan Bank of Chicago
To learn more about FHLBank Chicago and its full range of Community Investment programs, please visit fhlbc.com or @FHLBC. "Community First," "Downpayment Plus," and "DPP" is a registered trademark of the Federal Home Loan Bank of Chicago.