FHLBank Chicago Named Top Workplace for Second Consecutive Year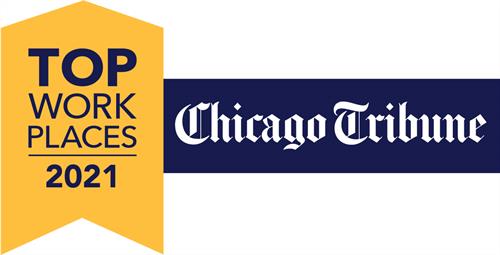 For the second year in a row, we are excited to announce that the Federal Home Loan Bank of Chicago (FHLBank Chicago) has been named a
Top Workplace 2021 by the Chicago Tribune
in the Midsize category.
2021 has been an unpredictable year and we value this award for a variety of reasons. The impact of COVID-19 on the workforce continues to reverberate in many industries and we are evolving to match that rapid change. We have invested in our employees to help them live our mission, to provide the products, solutions, and services that support our members' business needs and to help their communities thrive.
"Earning this award again in 2021 is important for many reasons," said Kim Cullotta, EVP, CHRO and Group Head of People, Culture and Communications. "Our employees continue to set higher goals, collaborate virtually and in-person, celebrate diversity and deliver results for each other, our members, and the communities they serve."
We have also focused on our employees' experience and inclusive culture. We built out our new office at the Old Post Office building and executed a rebrand that strengthens our diverse representation and leadership. Our new, modernized office space allows for enhanced innovation and collaboration, so we can continue providing our members the products, solutions and services that allow them to empower their customers and communities.
Our bold, new brand
demonstrates our commitment to members and their diverse communities across Illinois and Wisconsin—from quiet rural areas, to small town main streets; from bustling cities, to the sprawling Northwoods.
Our values and vision
have also gone through a refresh. Our values—bold, committed, connected and trusted—are a guide for how we work together as a team. Our vision is driven by our dedication to efficiently deliver value and create positive change in our district's communities with our commitment to diversity, equity and inclusion. It illustrates where we're going and how we're evolving together to increase equitable opportunities across our district.
"The Top Workplace honor is a testament to the dedication of our employees who have weathered the changing landscape of our work, never missing a step on our member focused Bank goals," said Michael Ericson, President and Chief Executive Officer, FHLBank Chicago. "Our culture continues to elevate our commitment to creating a diverse, equitable, and inclusive workplace where employees are fully engaged and positioned to do their best work in support of our teams."
This honor is based on our employees' feedback to a survey administered in June by Energage, a third-party employee engagement technology partner the Chicago Tribune uses to rank workplaces in the Chicago area. The anonymous survey measures important aspects of an engaged culture, including alignment, execution and connection. The results represent feedback from employees around their experience working at the Bank and had a 76% response rate.
Congratulations to our employees on receiving this award and thank you to our members for inspiring us each day to do our best work in support of you and your communities. We are excited to continue working and evolving together, recruiting talented team members to join the Bank, and serving our members throughout Illinois and Wisconsin.
Explore our
career opportunities
and
learn more about Top Workplaces 2021
.