FHLBank Chicago Publishes 2021 Annual Report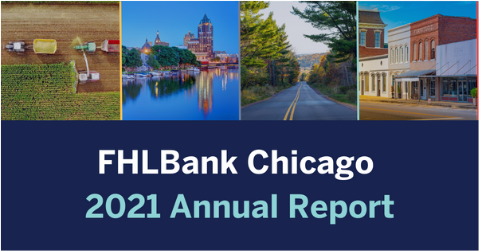 The Federal Home Loan Bank of Chicago (FHLBank Chicago) is pleased to announce the publication of our 2021 Annual Report , showcasing some of the success stories of our members and the impacts they have had in their communities through the lens of our bold, new brand. Our refreshed visual identity was inspired by the diverse communities our members serve across Illinois and Wisconsin—from quiet rural areas, to small town main streets; from bustling cities, to the sprawling Northwoods. And our commitment to diversity, equity, and inclusion is woven into all that we do to support those vibrant communities.
We invite you to view our report to learn more about our unwavering commitment to our mission through the ongoing challenges of COVID-19 and shifting economic environments. Through trust, partnership and engagement, we built resiliency in the ways we were able to support our members and made 2021 another successful year at the Bank.