eBanking Member Focus Groups - We Want Your Feedback!
Introducing FHLBank Chicago Member Focus Groups - Take Part in a Unique Opportunity to Provide Feedback on Potential New eBanking Features!
In an effort to support our 2022-2023 eBanking initiatives, the Federal Home Loan Bank of Chicago (FHLBank Chicago) is excited to announce the introduction of our eBanking Member Focus Groups! The focus groups are a great opportunity for our member's to provide feedback on design, usability, ease of use, and intuitiveness of potential new eBanking features.

How Would I Help to During These Sessions?
During the focus group, participants are provided with a script to help guide the session and asked to walk through clickable prototypes. We are looking for eBanking users who engage with the platform as either general users or have specific transaction roles. Sessions are anticipated to run approximately one hour. Please see the proposed features and roles requested below: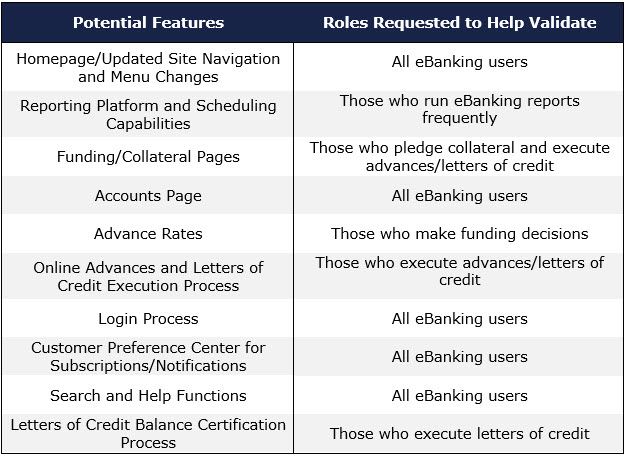 When Are the Focus Groups?
We have five focus group waves starting in April 2022 and running through December approximately every eight weeks. For each week, we will plan to have five sessions (one per day) where one member participates in one session. Please note – there can be multiple users from each member institution in one session. Please see the proposed schedule outlined below:

How Do I Sign Up?
To sign up and participate in a session, please fill-out our short form. You will receive a follow-up email to confirm your session. We will do our best to accommodate your preferences and schedule based on your replies.
Questions?
Please reach our to your Sales Director with any questions.