Community First August 2023 Newsletter
A Downpayment Plus Birthday Gift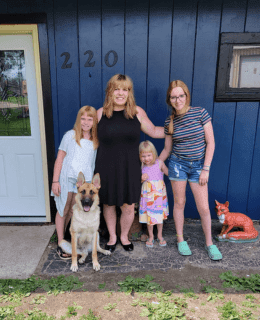 Nearly a year ago, Ashley Hoppe received a once in a lifetime birthday gift. She closed on her new home in Neillsville, Wisconsin, on her birthday, with the support of a FHLBank Chicago Downpayment Plus (DPP®) grant provided through Simplicity Credit Union. Sitting on more than an acre of land, Ashley shares the home with her three daughters and her dogs, Orion, Pippi and Luna who love the beautiful backyard and country setting.
"It was an exciting experience to purchase our home and everyone at Simplicity Credit Union was so friendly and helpful," said Ashley Hoppe. "We love sitting in our backyard and seeing local wildlife like deer and their baby fawns. Thank you from the bottom of my heart to Simplicity and FHLBank Chicago for going above and beyond and playing a big part to help this dream come true, giving my kids a place to call their own!"
Read more about DPP expanded funding on fhlbc.com.
2023 AHP General Fund Update
For 33 years, members of FHLBank Chicago have partnered with community developers and public agencies to apply for Affordable Housing Program (AHP) General Fund subsidies. These grants are awarded to the highest-scoring projects through a competitive process until the funds are exhausted. The 2023 AHP General Fund competitive round opened on Monday, May 1 and closed on Friday, June 9. All applicants will be notified of the status of their application in late October. FHLBank Chicago expects to award approximately $33.1 million this year.
2023 Round Highlights:
29 members and 43 sponsors jointly submitted 61 applications.
Approximately $43.9 million in competitive AHP subsidies was requested to support the construction, acquisition, and/or rehabilitation of 2,555 housing units.
The applications by project location were distributed between Illinois (28) and Wisconsin (32), plus 1 from outside the district.
54 of the applications submitted were for rental projects and 7 were for homeownership projects.
The total development cost for the 61 projects is more than $812 million.
The average subsidy requested was $720,436.
In 2022, 67 applications requesting nearly $41.9 million were submitted, and ultimately $23.8 million was awarded.
We have awarded $531 million to the AHP General Fund since inception in 1990, providing housing to nearly 87,000 households.
2023 Downpayment Plus Program Update
The 2023 Downpayment Plus (DPP) and Downpayment Plus Advantage (DPP Advantage) programs opened on January 18th 2023 and continues to provide members easy to access down payment and closing cost assistance to help their income eligible borrowers achieve homeownership. As of August 1, 2023, we have awarded $12.08 million in DPP grants to 1,277 households.
Share Your Community Impact Story
Every day throughout communities in Illinois and Wisconsin, we make a positive and lasting impact together with our member financial institutions and partnering organizations. At FHLBank Chicago, we want to showcase our District's stories of innovation, adaptability, and resilience serving these communities. Stories like this may include:
Community partnership

Community development

Affordable housing support

Small business successes

Diversity, equity, and inclusion

Economic development in your communities
Visit fhlbc.com/impact to find inspiration and to Tell Your Story.
Upcoming Events
August 10 | LISC Milwaukee | 2023 MANDI Awards