Consumer Lending: Preparing for Q4 and Beyond
October 7, 2021
Overview
According to the New York Fed's Q2 2021 Household Debt and Credit Report, auto loan originations have experienced strong growth this year, most recently increasing $33 billion and totaling $1.4 trillion in the second quarter. Revolving and other loans displayed more modest growth but still totaled $1.53 trillion in the second quarter.
Credit unions have been notable participants in the consumer loan space. Q2 Call Report data highlights that credit unions on a national level experienced a 4.34% annual growth rate in new and used vehicle loans, with auto loans now representing 19.31% of total assets at over $390 billion. Unsecured loan balances among all credit unions did decline 0.8% when compared to the prior year, but overall remain at approximately 5.50% of total assets or $113.0 billion. A more granular look at the data reveals that Illinois credit unions experienced a 4.70% annual growth rate in new and used auto loans while Wisconsin credit unions experienced a 6.55% annual increase, totaling 6.5% and 3.95% of total assets, respectively. Unsecured loan debt within Illinois credit unions decreased 1.96% while similar debt in Wisconsin credit unions increased 6.56%, totaling 4.64% and 3.95% of total assets, respectively. The data suggests that consumer loan balances in our district remained robust with our member credit unions.
Figure 1: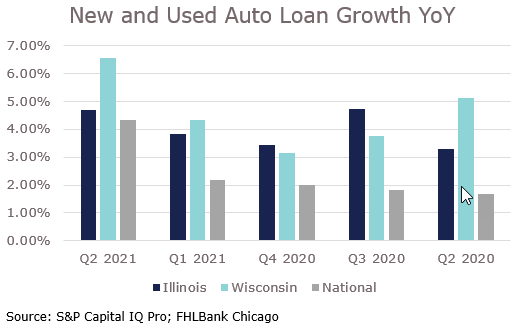 As we prepare for the upcoming holiday season, there are two strategies we are seeing members leverage today:
A blended strategy capturing today's low rates to fund a portfolio of auto loans while limiting interest rate risk.

Short-term funding to access negative "all-in" funding rates to deal with an anticipated demand for loans related to the holiday season spending spree.
Using a Blended Strategy to Fund and Hedge an Auto Loan Portfolio
As economic conditions continue to improve and with the Fed suggesting rate hikes are possible as early as next year, many consumers may increasingly be looking for extended loan terms to capitalize on today's low interest rates, which creates potential opportunities for lenders. Your institution can hedge its auto loan portfolio by funding your portfolio with a combination of deposits and a ladder of longer-term advances to lock in low advance rates today. You can utilize more liquid, shorter-term funding options such as a mixture of deposits and short-term advances but then add a longer-term amortizing advance to the mix to lock-in low cost, longer-term funding. When the amortizing advances pay down on schedule, you can meet any gaps in your funding needs with short-term advances or deposits. The below figures offer a strategy to leverage 10% of your current deposits and borrow the remaining portion with advances. The strategy also uses our Q4 advance specials to receive discounts on longer term funding, which you can review specials here. For a customized solution tailored to fit your institution's risk tolerance and asset characteristics, please contact your Sales Director.
Figure 2:

1 Includes 5 basis point special discount on amortizing advances greater than 5 years
2 Auto loan rate of 5.05% according to Federal Reserve's Q2 2021 Consumer Credit report
(Data as of September 30, 2021 unless otherwise noted)
Short-Term Lending Solution for the Holidays
Outstanding balances on credit card and other loans have experienced modest growth in recent months as consumer spending increases after a lull because of the pandemic. However, loan demand has been stubbornly slow as consumers work their way through excess savings held at financial institutions. Short-term advances from one week to six months can currently be executed at a rate of 0.22%, with additional discounts available on one month and three month advances executed before 10 a.m. When including the discounted rate of 0.20%, and after factoring in the 21 basis points (bps) dividend benefit, it is possible to get up to a three month advance at an all-in rate of -0.01%! Use short-term funding to fill short term cash needs so support cash needs during the holiday season.



To Learn More
Contact your Sales Director to learn more about the benefits of FHLBank products and solutions.


Contributors
Danny Magdaleno
Senior Analyst
Sales, Strategy, and Solutions


Steve Sikora
Associate Director, Institutional Sales
Sales, Strategy, and Solutions
Disclaimer: The scenarios in this paper were prepared without any consideration of your institution's balance sheet composition, hedging strategies, or financial assumptions and plans, any of which may affect the relevance of these scenarios to your own analysis. The Federal Home Loan Bank of Chicago (FHLBank Chicago) makes no representations or warranties (express or implied) about the accuracy, currency, completeness, or suitability of any information in this paper. This paper is not intended to constitute legal, accounting, investment, or financial advice or the rendering of legal, accounting, consulting, or other professional services of any kind. You should consult with your accountants, counsels, financial representatives, consultants, and/or other advisors regarding the extent these scenarios may be useful to you and with respect to any legal, tax, business, and/or financial matters or questions. In addition, certain information included here speaks only as of the particular date or dates included, and the information may have become out of date. FHLBank Chicago does not undertake an obligation, and disclaims any duty, to update any of the information in this paper. Moreover, this paper may include forward-looking statements, which are based upon the FHLBank Chicago's current expectations and speak only as of the date(s) thereof. These forward-looking statements involve risks and uncertainties including, but not limited to, the risk factors set forth in the FHLBank Chicago's periodic filings with the Securities and Exchange Commission, which are available on its website.
Contact your Sales Director for more information.