Long-Term CRE Lending
November 17, 2021
Overview
The past year and a half has seen an incredible amount of change for financial institutions. While embracing and adapting to these changes is important, sometimes it's nice to focus on something you can rely on. Like turkey on Thanksgiving, the appetite for commercial real estate (CRE) lending has remained steady even as some of the favorite side dishes have gone sour. While demand has remained robust, the CRE market has not been without its challenges. Competition is fierce, and savvy borrowers are asking for longer loan terms than ever before in hopes of locking in cheap funding while lenders are wary of the risk of rising rates. Interest rate risk associated with CRE loans can be managed via swaps or advances. In this white paper, we will explain how you can use FHLBank Chicago advances to help manage interest rate risk, leaving you to do what you do best - focusing on managing relationships and assessing credit risk.


Trends in Commercial Real Estate (CRE) Lending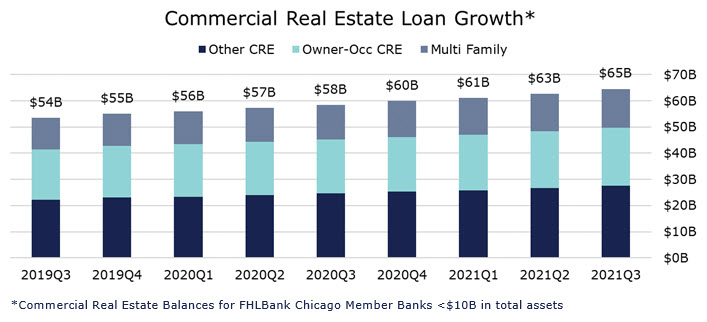 CRE loans have grown steadily, even while demand for some loan types have sputtered over the course of the pandemic.
Lending is competitive as many financial institutions are looking to deploy liquidity where loan demand exists.
Savvy borrowers are asking for extended terms to lock-in interest rates at current levels exposing lenders to increased interest rate risk.
We offer several strategies to manage interest rate risk through match funding and blended funding Solutions.
Interest Rate Risk – Find the Right Mix for Your Balance Sheet
Many depositories have struggled to grow loans and demand for credit may remain tepid well into next year. Therefore, offering competitive terms and maintaining client relationships is imperative. In some cases, this may mean exploring longer terms than your institution has traditionally been comfortable with. Using advances to fund all or a portion of longer-term assets can help eliminate or reduce interest rate risk and allow your institution to focus on the credit and the relationship. With the immense amount of liquidity that entered the financial system over the last year and a half, it's easy to forget about a time when deposits were scarce and rates were rising. But believe it or not, those times can certainly return, and it is important to be prepared.
In the chart below, we model a $1M 10-year, 20-year amortizing CRE loan at a fixed rate of 4%. We also assume a deposit cost of 30 basis points (bps), a deposit beta of 0.60, and a six month lag to the interest rate shock presented in each column to illustrate the interest rate risk of funding a long-term asset with only deposits.



FHLBank Chicago provides flexibility that can allow you to perfectly match fund the cash flows of the asset. This solution will result in the lowest starting net interest margin (NIM) but will lock in the asset spread and eliminate any variability to the income stream. Other members will opt to use a blended funding strategy where they will partially fund the asset with an advance to reduce income variability while also using deposits to take advantage of the steepness of the yield curve to their advantage. In this example, we use the same amortizing advance in the match funding example but fund half of the asset with the advance and half the asset with deposits. This results in a cheaper initial starting cost and partially protects the income stream in different rate shock scenarios.



In short, members should not give up on longer-term lending simply because of interest rate risk. You can explore your options through match funding or blended funding to manage interest rate risk if the relationship and the credit are a good fit for the balance sheet.


Other Considerations
Flexible Funding – FHLBank Chicago can customize amortization schedules, offer interest only periods, and ladder advances to fit your customized needs. If you don't need funding now, but want to take advantage of today's for interest rate hedging purposes, the Bank can also provide forward starting advances. Contact your Sales Director for a consultation.
Prepayment Protection – Most CRE loans include some form of prepayment penalty whether it is a lock out period, a step down fee, or yield maintenance fee. We have also had members use our advance prepayment calculation language and embed it directly into their loan agreements to ensure any prepayment penalties are passed onto the borrower. Finally, if you are excepting prepayment risk on an asset, ask your Sales Director about callable advance options.
Long-Term Advance Specials – Speaking of callable advances, we recently added long-term callable advances to our list of special discounted advances. We also extended our discount on long-term fixed rate bullet and amortizing advances through the end of the year. Find the terms and conditions here.
To Learn More
Contact your Sales Director to learn more about the benefits of FHLBank products and solutions.


Contributors
Jack Quinn
AVP, Lead Analyst
Member Strategy and Solutions


Sean Harper
Associate Director, Institutional Sales
Sales, Strategy, and Solutions
Disclaimer: The scenarios in this paper were prepared without any consideration of your institution's balance sheet composition, hedging strategies, or financial assumptions and plans, any of which may affect the relevance of these scenarios to your own analysis. The Federal Home Loan Bank of Chicago (FHLBank Chicago) makes no representations or warranties (express or implied) about the accuracy, currency, completeness, or suitability of any information in this paper. This paper is not intended to constitute legal, accounting, investment, or financial advice or the rendering of legal, accounting, consulting, or other professional services of any kind. You should consult with your accountants, counsels, financial representatives, consultants, and/or other advisors regarding the extent these scenarios may be useful to you and with respect to any legal, tax, business, and/or financial matters or questions. In addition, certain information included here speaks only as of the particular date or dates included, and the information may have become out of date. FHLBank Chicago does not undertake an obligation, and disclaims any duty, to update any of the information in this paper. Moreover, this paper may include forward-looking statements, which are based upon the FHLBank Chicago's current expectations and speak only as of the date(s) thereof. These forward-looking statements involve risks and uncertainties including, but not limited to, the risk factors set forth in the FHLBank Chicago's periodic filings with the Securities and Exchange Commission, which are available on its website.
Contact your Sales Director for more information.