Maximize Your Mortgage Business by Combining MPF With Downpayment Plus
June 9, 2023
Overview
Federal Home Loan Bank of Chicago (FHLBank Chicago) members can leverage two readily available products to attract new customers to your mortgage business and maximize the income earned on mortgages originated. The Downpayment Plus (DPP®) program offers members forgivable grants for down payment and closing cost assistance. Grants up to $10,000 toward downpayment assistance (an increase from $6,000 in previous years) are available to income-eligible customers. With member limits also increased to $700,000 in 2023, members can utilize the program to reach a broader customer base and boost the attractiveness of their mortgage offerings. Members can then identify loans that concurrently meet the FHLBank Chicago Mortgage Partnership Finance® (MPF) Program eligibility requirements and sell loans into the Program to maximize income generated on every mortgage. Through the MPF Program, members can sell loans to create balance sheet liquidity, reap the benefits of competitive pricing, and generate steady income streams through credit enhancement (CE) and dividend income sources.
Pairing eligible loans with DPP grants helps lower a loan's loan-to-value (LTV) and provides invaluable education as well as counseling for prospective homebuyers. Loans closed from this buyer pool could then be sold into the MPF Program, becoming even more beneficial for members. Coupling these programs is a great way for members to strengthen their balance sheets and ultimately return greater value to their customers through more competitive pricing and product offerings. Both programs are now open, and participation in either or both can be established at no cost and zero obligation. Sign-up now and stay ahead of the competition in today's competitive mortgage market! Read below for more information and other program benefits.

Overview of the DPP Program
The DPP program is funded by FHLBank Chicago and provides down payment and closing cost assistance for income-eligible homebuyers. The assistance provided is in the form of a forgivable grant (subsidy) paid on behalf of the borrower at the time the borrower closes on the first mortgage financed by your financial institution.
DPP
Income Guidelines
Households must have a projected annual income at or below 80% of the area median income. Income requirements are adjusted for household size and location as determined by the United States Department of Housing and Urban Development (HUD). Read the most recent guidelines by HUD, which are updated annually.
Homebuyer Contribution
Homebuyers must contribute a minimum of $1,000 to their home purchase transaction to be eligible for DPP. Contribution minimum is calculated as gross contribution less any cash-back at closing. Cash back cannot exceed $250 per regulation. Homebuyer contribution must be the borrower's own money and cannot be gifted funds.
Borrower Education and Counseling
Borrowers are required to complete pre-purchase education and pre-purchase counseling, which must be provided by one of the following:
HUD-approved counseling agency
Approved online provider (eHome America, Framework, or Fannie Mae HomeView)

Can provide pre-purchase education only
5-Year Retention Period
Grants are forgiven to the member in equal parts monthly over a 5-year period (60 months). If the borrower sells or refinances their home prior to the end of the retention period, they may owe a portion of the grant in repayment; however, there are many situations in which repayment is waived.
Use of Proceeds
Eligible use of grant proceeds includes:
Down payment and closing costs
Eligible rehabilitation costs
Interest rate write-down on mortgage
Escrow reserves and deposited with lender
Up to $500 homebuyer education and counseling
*Excess funds must be applied to principal
Member Limits
$700,000 annually
Grant Limits
Max per household $10,000 or 25% of first mortgage
Overview of the MPF Program
FHLBank Chicago's MPF Traditional conventional products (MPF Original, MPF 125, and MPF 35) provide a competitive secondary mortgage market outlet for your conventional, conforming loans. The products offer attractive all-in pricing for loans that may otherwise be penalized by loan-level pricing adjustments (LLPAs) in other secondary market programs. Typically a secondary sale, regardless of the investor, requires LLPAs to cover the perceived risk of the loan being sold, compensating the investor for assuming that risk at sale. We've historically seen our members expressing greater confidence in the credit performance of their customers than what is typically reflected in LLPAs.
Because the MPF Traditional products charge no LLPAs, the member shares some of the credit risk for each loan sold into the MPF Traditional products. For participating in the credit performance of the mortgage, your institution earns CE income of up to 6-12 basis points (bps*) annualized, creating an additional income stream after the loan has been funded. This performance income continues throughout the life of the loan as long as it remains on FHLBank Chicago's balance sheet.
As FHLBank Chicago pays your institution CE income and dividend income over time, MPF Traditional products can help your institution smooth earnings volatility over different economic cycles, especially during mortgage origination downturns. The graphic below illustrates the three sources of income members can earn through MPF Traditional products: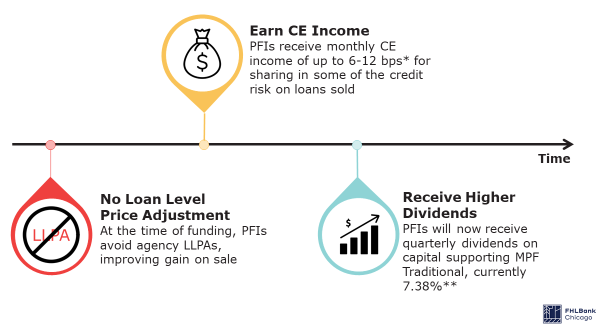 *Credit enhancement income is dependent upon product and Master Commitment size
**On April 26, 2023, FHLBank Chicago announced forward guidance in which we expect to maintain a 7.38% dividend for B1 activity stock for Q2 and Q3 2023. Any future dividend payments remain subject to determination and declaration by our Board of Directors.

Members often utilize the benefits of the additional income to offer a lower rate to their customers, preserve the funds for a loan loss reserve, or use it as income.
Value Add for Your Business
By participating in DPP and offering a grant opportunity to existing and prospective customers, members can return greater value to their customers, benefitting their communities and potentially expanding market share in existing markets or penetrating new markets. By offering this program to eligible households, you may be able to attract these new customers (or a new demographic of customers) and build lasting relationships with them. Further, when making these loans in conjunction with a no-cost DPP grant, you are improving the loan-to-value of a loan, making the origination sounder. There are no fees and no costs to borrowers associated with participation in the DPP program or the MPF Program.
Through the MPF Traditional products, FHLBank Chicago can help your institution obtain the best execution on selling loans into the secondary market and generate additional income streams. When considering the additional ancillary CE income and dividend income earned on loans sold through the MPF Traditional products, the all-in execution can provide a competitive advantage over correspondents that charge LLPAs, even if they offer a higher initial base price. Below we illustrate an example of the all-in execution on a loan that members should consider when comparing programs. It is important for members who optimize their mortgage business to consider the holistic view of the total net benefit of the MPF Program.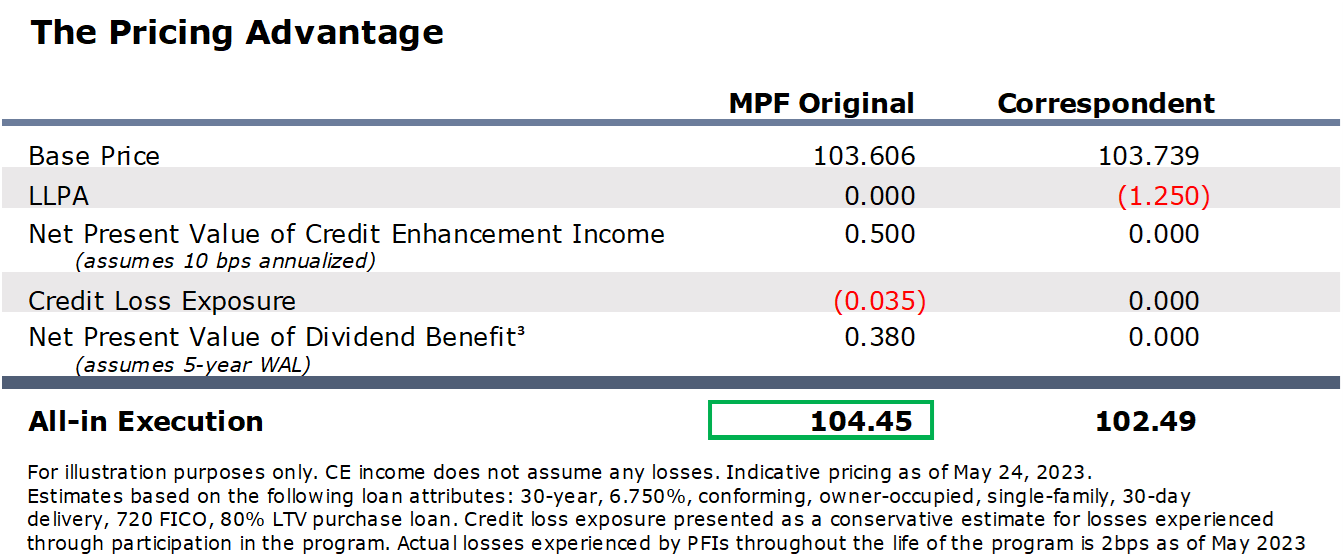 FHLBank Chicago can provide a bespoke pricing comparison for your institution by comparing loans sold to agencies or correspondents and analyzing what the all-in execution would look like had those loans been sold to the MPF program.
Common Misconceptions
One common misconception is that DPP is only for first-time homebuyers. While first-time homebuyers make up a substantial portion DPP recipients, all income-qualifying borrowers are eligible to receive DPP funds when securing a first mortgage. Members have used funds to assist seniors and other fixed-income applicants.

Another common misconception is that originating a loan while utilizing a DPP grant can limit the originator's loan options. However, this grant is very flexible and can be paired with almost any loan program, including FHA, VA, Rural Development, and Section 184 loans, and can often be paired with other grant programs. If a member decided to sell the loan into the secondary market, the MPF Original, MPF 125, and MPF 35 programs would be best suited for conventional/conforming loans, while the MPF Government product could be used for government loans.

A third misconception is that loans have to be sold into the MPF Program at the time of origination. If a member decides to sell a loan they had originally anticipated retaining on-balance sheet, the MPF Program offers flexibility in accepting seasoned loans up to 24 months from origination. As long as the economics work out favorably, this could present an opportunity to create balance sheet liquidity through a sale of on balance sheet loans.

A final misconception is that engaging with the DPP or MPF programs comes at a cost. These programs are part of our commitment to community investment and come with no obligation to FHLBank Chicago. Members can also utilize the two programs independently and are under no obligation to sell loans that receive DPP grants into the MPF Program. There are no associated fees to engage with either program, and members do not need to commit to any levels of utilization. It is always best practice to consider all possible secondary market options.
To Learn More
Interested in learning more about the benefits of using the DPP and MPF Programs and how to pair them together? Register for our next Institutional Insights Webinar on June 29 at 3 p.m.
Contact your Sales Director to learn more about the benefits of the DPP or MPF Programs or if you have questions on how to get started.
For a full list of eligibility requirements and restrictions to either the DPP or MPF Programs, key resources are linked below for your convenience:
Contributors

Cathy Kiriakos

AVP, Senior Analyst

Sales, Strategy, and Solutions

Danny Magdaleno

AVP, Senior Analyst

Sales, Strategy, and Solutions
Looking for a printable version of this white paper? Download the PDF.

Contact your Sales Director for more information.